Our team of professionals takes part in the main meetings of the European Society of Human Reproduction in Milan and Athens
The age of women who are trying to conceive is undoubtedly a key factor in determining the likelihood of success in assisted reproduction treatment. This was explained by Dr. Antonio La Marca, member of Eugin Italy's medical team, on May 6 at one of the meetings organised by the European Society of Human Reproduction and Embryology (ESHRE).
The meeting, which took place in the city of Athens, focused precisely on the analysis of the influence of the increasing age at which women decide to become mothers, a phenomenon that is becoming more and more common in Europe and aimed at finding the best options for making motherhood possible.
Dr. Antonio La Marca member of the medical team of Eugin Italy
In this regard, Dr. La Marca explained the success rates in assisted reproduction treatments for these women. Specifically, during his talk entitled Prognostic parameters for a realistic counselling in ageing women undergoing IVF, the physician explained that while age is the most determinant factor in achieving a pregnancy successfully carried to term, the medical history and state of health - of both the woman and her partner - can also play a very relevant role.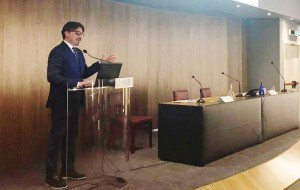 "According to our experience, we see that women who have a greater chance of getting pregnant are likely to have a good ovarian reserve", said Dr. La Marca. "This is explained by the fact that there is a close relationship between the number of oocytes that the woman has and the number of embryos that can subsequently be transferred during an in vitro fertilisation cycle," he said.
Genetic compatibility analysis
The scientific director of the Eugin Group, Dr. Rita Vassena, has also been present recently in meetings organized by ESHRE. The first one was in Paris, where she explained the application of genetic compatibility analysis in couples who are going to start an assisted reproduction process. In the second one, this same month of May in Milan, where she gave the two talks entitled Oocyte post-ovulatory aging in human IVF: does it matter? and The changing landscape of gene expression in the human pre-implantation embryo over time.